Valued at an estimated £102 billion and employing over 2 million people, the creative industry is a major player in the UK economy, growing three times faster than other sectors. And it's really no surprise, with demand skyrocketing for every type of creative role; from set design and stage construction for multi-million-pound events, creative direction and graphics for unforgettable campaigns, through to videographers and digital wizards creating mesmerising films and visually striking websites for big-name brands, every individual has a part to play in making amazing things happen.
Now, whilst that's all extremely exciting, have we paused and considered what information is out there to aid those who are looking to get into our industry?
It's a challenge faced by hundreds of thousands of young, hungry and talented creatives. In 2021, you'd be surprised by the lack of information available to fresh creative minds looking to kick-start their career. Search the likes of Google and you'll soon find that creative self-help sites are crowded with waffle and jargon, with too much focus on 'the arts', academia over employability and very little practical, professional guidance for those looking to get on the first rung of the ladder.
It comes as no shock therefore that there were more than 77,000 vacant positions in creative roles as of December 2020, with a staggering 90% of occupied positions held by those from more advantaged socio-economic groups. The big question: how can we help talented young individuals from all walks of life to better understand and access the creative sector?
Welcome to Ask A Creative, a new platform for creative wisdom without the waffle.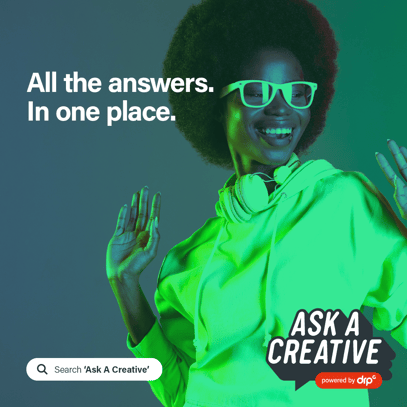 DRPG is launching a brand-new website for young, fired-up creatives to unlock the secret of how to enter the creative industry and thrive. With Ask A Creative, they'll be able to get real-life insights from real-life creative professionals and understand how to take their first steps to towards their future career. It's all about getting the know-how by show-how.
We've got the answers to your pressing questions. Debating how to overcome a creative block? Itching to know how you can think outside the box? Wondering how you can make money from being creative? Just ask! Ask A Creative has you covered.
Does Ask Jeeves ring any bells to you? Take that concept, supercharge it with engaging and varied creative content, bring it all together with a beautifully designed user experience, fast-forward to 2021 and you've arrived at our brand-new state-of-the-art hub for all things creative.
Simply visit the website and type in your question or see the answers to what others have asked with the 'inspire me' function. If your question hasn't already been answered, click 'talk to a human' and you'll receive a personalised response in just 7 days. It's that easy!
And we're not talking one-line answers. We've got a whole host of engaging blogs, vlogs and podcasts in-store to excite and inspire.
When in education, we're often fed the age-old myth that a career in the creative sector 'isn't a real job' and instead encouraged to study for qualifications in what are deemed to be 'safe, academic professions'. However, 87% of employees in "highly creative" professions are in fact found to be at low or no risk of automation (Nesta.org). It's safe to say, then, that the anti-creative yarn that today's young people are being spun is utter nonsense – and Ask A Creative is going to be the platform to change that.
We love all ideas, the good, the bad and the mad. Anything's possible, after all
Get in touch today