Join the tribe that makes anything possible
Work somewhere where stuff is happening.
It helps to have a skill, but we're more interested in creative people from all walks of life. Our big thing is ideas, so if you're a dreamer, a realist, a perfectionist or just think of great ideas every now and again, we're all ears. Just prove you've got the talent to make it happen and we'll let you crack on. Alongside a career that'll allow you to rev your engines, we'll look after you, pay you competitively and make sure you aren't stuck in one place. We're also nice people and we'll give you as much free tea, coffee and fruit as you can handle. Anything's possible.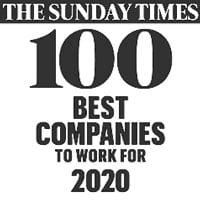 Some of our many benefits
When you join DRPG we like to give back to our team as way of saying thank you for all the hard work. We are always working on better ways to say thank you as our team's opinion matters
Annual Leave
We give our team 24 days of annual leave each year, as well as eight bank holidays and 1 extra day for every 5 years service.
Working hours
We offer flexibility in how, when and where you work.
Bonus
When we reach or surpass the business target we all share 10% of the overall net profit.
Wellbeing
From private healthcare to our own mental and physical wellbeing services, we go beyond 'just caring' for our employees.
Personal Development
Take advantage of incredible training, further education and exposure to the industry to take your career to the next level.
Our Academy
To help our people reach their full potential, all team members have instant access to our skills and learning academy. Whether it's brushing up on design, writing or coding skills, all the way to obtaining certification, we help everyone to learn something new and enhance their careers.
Current vacancies
We're always on the look out for ambitious and creative people to join our tribe. If you can't see something for you here, use the contact box to get in touch.
Work experience and placements
It's our responsibility to nurture the next generation of communication specialists.
We believe work experience should be exactly that; an experience to remember, so you're exposed to all aspects of our industry. Whether it's developing your communication skills, working on live events, video shoots, assisting with web design or experiencing technical services, you won't get stuck making the tea and photocopying.
We offer
Mentoring
Apprenticeships
Work experience
Graduate Placements
Like what you see?

Let's work together!
Give us a call on: 0207 937 8057 or email us today on: anythingspossible@drpgroup.com
Enquire Now