We're thrilled to announce that we won the Best Sustainable Event at the EVCOM Clarion Awards on 4 July 2023 for our flagship communication event BigTalk.
The annual event brings our clients together to share knowledge and promote our service offerings. Demonstrating the innovative creativity that is found within every corner of DRPG, it's a great way for us to share how the different services such as Events, Digital, Film and Marketing work in tandem with each other to create fantastic solutions for clients covering a range of industries from automotive and pharmaceutical to financial and telecoms.
The event took place at our headquarters with 750 solar panels, producing 195kw of power. As the event was in September there was still daylight for 12+ hours which meant the solar panels produced the power needed to run the venue, making the event 100% renewable. The studios also operate a no single-use plastics rule with compostable cups and water stations are throughout the building, with reusable bottles encouraged.
Our Design and Print team ensured any material produced was inclusive and accessible. All print material was produced from recycled materials or could be reused in the future, even the ink used was biodegradable!
Only £200 was spent on set design for the entire event across the whole of the 4.2-acre site, abled by the re-use of client project materials from previous events and exhibitions. The crew were all local which eliminated lengthy travel times, and as all equipment used was already in-house, the environmental impact of ordering new kit was non-existent.
BigTalk's program permits delegates to claim Chartered Institute of Personnel Development (CIPD) points for attending. Highlighting the People focus of sustainability, these points encourage lifelong learning and development that ensures individuals acquire the skills needed to excel professionally.
The finale saw us team up with Lightbulb Teams charity to guide the audience in constructing 20 prosthetic hands for those in Rwanda who have lost a hand. This powerful session was supported by videos that brought to life the hardship that still exists. Delegates had a real sense of purpose and achievement, knowing it will help someone lead a normal life.
The evening's sustainable dinner was crafted by Chef Graham Brookes, who explained how each course used locally-sourced food including lemons, limes, and orange juice which impressed delegates. 96% of the drinks were also sourced in the county, with the exception of tea sourced from Cornwall and coffee as we use a Fairtrade supplier. The menu for the evening was only available digitally and delegates could order sustainably sourced cocktails from their table using our bespoke app.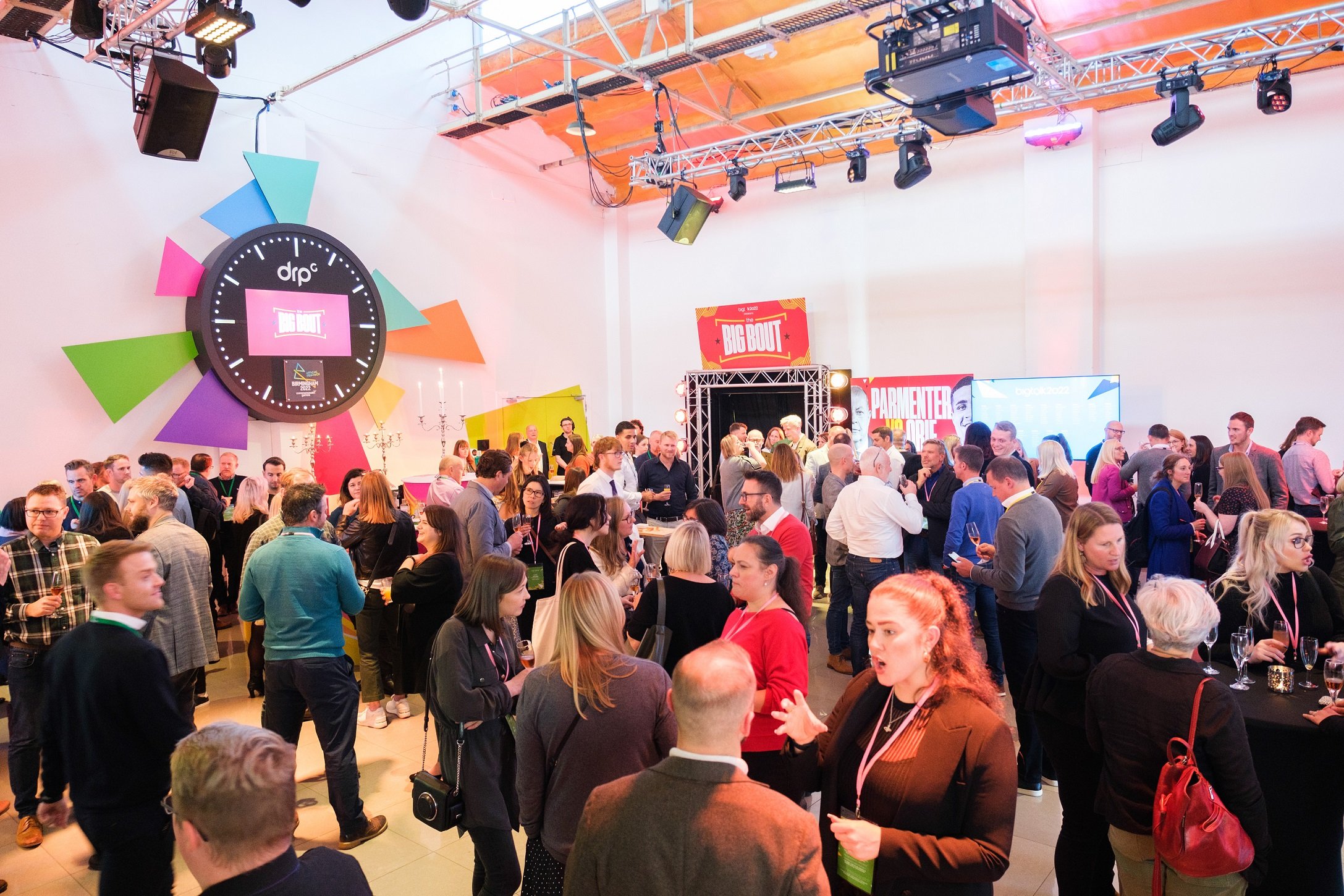 CEO Dale Parmenter commented, "To DRPG, sustainability is made up of three components; People, Planet; Profit. All too often sustainability is seen as just the environment, but when we take the triple-bottom line approach, sustainability becomes everything. This was considered every step of the way when it came to BigTalk."
"As you can see, BigTalk was a sustainable success with even the smallest element sustainably considered from the get-go. Whilst from the outside looking in you might not consider it be the most sustainable event, it's important that every event we produce is as sustainable as possible even if it's not immediately clear. That goes for our own events as well as ones we produce for our clients. We are currently working on BigTalk 2023, and I'm incredibly excited as to what we have in store for this year that we can showcase."
"I'm absolutely thrilled we won Best Sustainable Event at the EVCOM Clarion Awards this year, and I very much enjoyed taking part in a panel discussion all about the steps we need to take as an industry to ensure sustainability is top of the agenda for all."
To find out more about the experiential events we deliver for our clients, click here.
We love all ideas, the good, the bad and the mad. Anything's possible, after all
Get in touch today