This week is National Apprenticeship Week. Now in its 16th year it brings together businesses and apprentices to shine a light on the positive impact that apprenticeships make to individuals, businesses, and the wider economy.
The theme this year is Skills for Life, reflecting on how apprentices can help develop the skills and knowledge for a rewarding career. Head of Learning and Development Elaine Voss said:
"Apprenticeships offer a really unique and exciting opportunity for our team members to enhance their skills. They're a truly inclusive learning opportunity that we offer to all our team members across every department regardless of experience level, role or age. Our team members get access to a fantastic development opportunity and as a business, we see increased levels of capability that translate into delivering a premium service for our clients.
"We're excited to be launching our internal apprenticeship campaign for 2023 to coincide with National Apprenticeship Week, opening up even more opportunities to learn. We're also delighted to be furthering our ongoing relationship with the BBC Apprentice Hub this year by welcoming another two apprentices through the scheme."
As this week celebrates some very special and essential people, many of which are at DRPG we thought we'd speak to a few of them to find out their top tips on how to make an apprenticeship possible.
Morgan Westwood-Cooke, Media Production Co-ordinator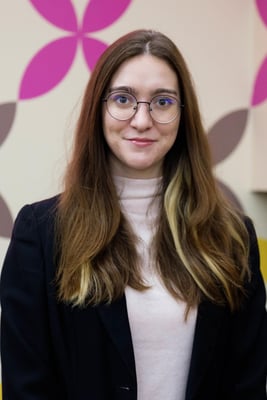 What apprenticeship are you doing? Media Production Co-ordinator Level 4 through the BBC Apprentice Hub scheme.

What do you love about doing an apprenticeship? The best part of an apprenticeship is that I'm constantly being pushed to keep learning and improving; and this ability to pick up the basics and progress quickly is an incredible break for an outsider to the media industry. It has given me the chance to interact with a range of people and their roles that I would never have met outside of the scheme, and to be able to learn about the role from other people's personal experiences gives me an invaluable insight. DRPG has been incredibly supportive and allowed me to become immersed in the Film team. I genuinely look forward to coming to work.
What would you say to someone considering an apprenticeship? Apprenticeships are another chance for you to try something new, with a safety net of support and guidance to help remove any worries. I didn't think I'd ever end up doing an apprenticeship, but it's given me a real opportunity to enter the industry that I wouldn't have anywhere else.
Ru Sarris, Creative Director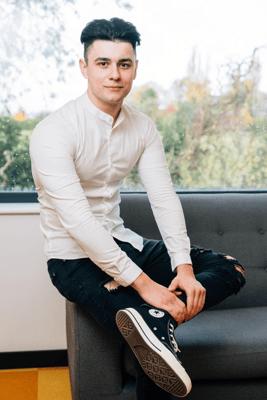 What apprenticeship are you doing? I'm currently undertaking a Level 6 Marketing Manager Degree Apprenticeship (2021-present) and I've also completed a Level 4 Digital Marketing Higher Apprenticeship (2019-2020)

What do you love about doing an apprenticeship? Upon completing my A Levels at Sixth Form, I set out to develop my career with the goal of achieving a degree through an apprenticeship pathway, enabling me to earn while I learn and gain invaluable industry experience. With a passion for creativity and a keen interest in marketing and events, I longed to be part of a team that would foster that passion and help me develop the skills and real-world experience on client projects to help me grow in my career.

I was fortunate enough to join DRPG as a Level 4 Apprentice in 2019 and I haven't looked back since. Being able to collaborate with - and learn from - experts in each discipline has been critical to growing my skills and confidence when delivering for clients. The support from colleagues at every stage has enabled me to successfully complete my Level 4 and, in turn, undertake my Level 6 Degree Apprenticeship; achieving the goal I set out to attain when I began at the company.
I'm grateful for both the development and career opportunities I've had as an apprentice and team member at DRPG and am excited for what my future career at the company will bring.
What would you say to someone considering an apprenticeship? Go for it! Grab the opportunity with both hands. An apprenticeship isn't just a qualification for 16–25-year-olds as people would assume… no matter what qualifications and work experience you already have, an apprenticeship is a great way for team members - regardless of skillset, department or years' experience - to diversify and upskill, learn something new, gain additional qualifications or take their career in a new direction. There's something for everyone! The best bit is that it is fully funded by DRPG and you're given time to complete off-the-job training, as well as having access to support from colleagues around the business as you learn!
Katie Cabrera, Senior Account Manager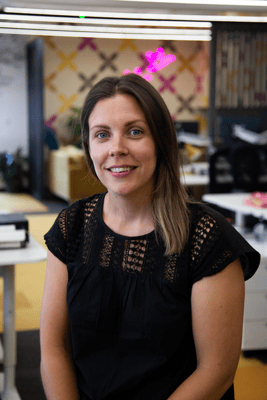 What Apprenticeship are you doing? Marketing Manager Level 6 through the Cambridge Marketing College.

What do you love about doing an Apprenticeship? It's been a long time since I was at university, my apprenticeship has given me another purpose and the hunger to learn again. I think after having children you can often question your mental capacity and your ability to take on new challenges, I would have never been able to start a new career due to family and financial commitments, my apprenticeship has given me the opportunity to take on a new venture without the risk or worry that I could be jeopardising my family life if things didn't work out. And who at 18, really knows what they want to do? And should we have to do the same thing our whole life? My apprenticeship gave me the confidence and the ability to change direction and engage with something that really interests me.

What would you say to someone considering an apprenticeship? It's never too late and you are never too old! Also, there are apprenticeships in so many professions, gone are the days when an apprenticeship meant becoming a plumber or a mechanic!
If you are interested in exploring an Apprenticeship at DRPG do have a look at our career page and reach out to our HR team.
We love all ideas, the good, the bad and the mad. Anything's possible, after all
Get in touch today