Now more than ever compassion and community have come to the fore in our everyday lives. Small acts of kindness are making a huge difference across the UK as we come together to support each other through the difficult times we are facing as a nation.
On Thursday 14th, as well as lighting up our studios in blue as part of the "Light it Blue" campaign to thank the NHS for their tireless work during the crisis, at exactly 9 seconds past, 9 minutes past 9pm (to denote 999) the video, motion graphics and production teams unveiled a huge surprise for our frontline workers.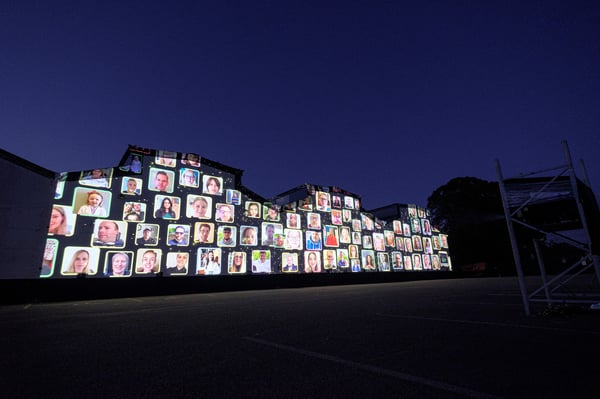 Throughout the week, team members recorded personalised messages of thanks to people they know working on the frontline, helping our community during this crisis. The poignant lyrics of True Colours were spoken over photos of artwork, clips of people clapping on their doorsteps and thank-you messages, to create a video. This video was then projection mapped onto the front wall of our studio complex and HQ building, using the latest Panasonic laser projection technology which was then streamed live across social media channels, where it received over 20k views, likes, shares and comments. You can see the video by clicking HERE.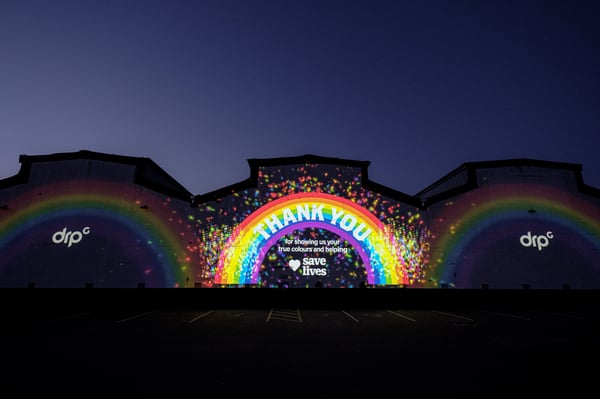 Dale Parmenter commented on the technology that made this gesture possible: "The technology used to project this video is part of our 2020 multimillion-pound investment programme into the latest tech on the market to help us provide the best and most up to date services for our clients. To be able to use this brand-new tech as well as the skills and resources we have in our team for such a worthy cause is humbling."
As part of our drive to brighten up the community, we also worked alongside Worcestershire County Council to create a surprise installation on Charles Hastings Way just outside Worcestershire Royal Hospital. The colourful artwork depicts seven rainbows, thanking the NHS and key workers for showing their true colours throughout the crisis and working hard to protect all those in need. The installation was created with the aim of bringing a smile to people's faces and brightening up essential workers' days. It has had some incredible feedback.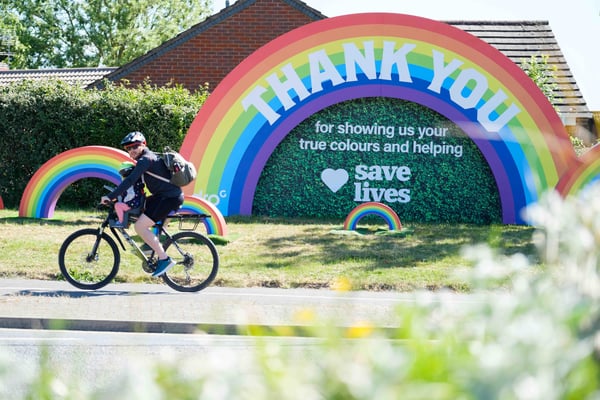 Put in place early on the morning of Thursday 14th by DRPG's technical production team, the seven rainbows were greeted with delight by those heading into the hospital in the morning to start their shifts. They will continue to stand and bring joy to those that see them.
Dale Parmenter commented: "The sacrifices people are making in such scary and uncertain circumstances is truly incredible and any small act of support we can give to show our thanks for their hard work, is our pleasure. We hope this art continues to bring a smile to people's faces and encourages them to keep up their amazing work."
Councillor Simon Geraghty, Leader of Worcestershire County Council said: "The installation by DRPG is wonderful and a really fitting tribute to our NHS colleagues who have worked tirelessly during this pandemic. We were more than happy to help with this tribute in whatever way we could, and it is great that it has brought a smile to so many people's faces during this testing time."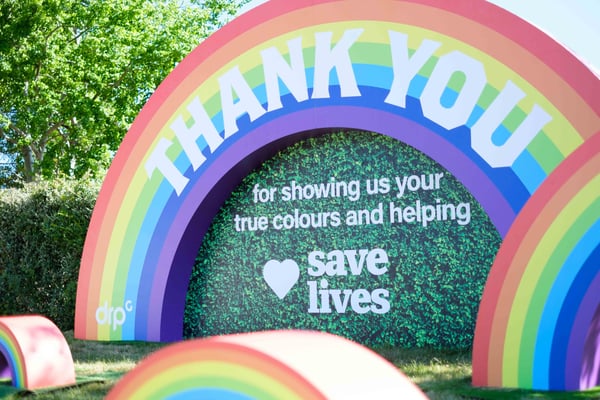 We love all ideas, the good, the bad and the mad. Anything's possible, after all
Get in touch today