Events and sustainability haven't always gone hand in hand. Providing incredible experiences for streams of people in a single space demands resource, and often event organisers have prioritised look and feel (and let's face it, ease) over reducing impact on our planet. That's how we reached a point where 100,000 tonnes of waste were burnt or sent to landfill from the UK events industry in just one year.
But things are changing. And changing fast. As an industry, we're witnessing a real drive for progress. Waste is no longer seen as an inevitable by-product of large events, and creative approaches to recycling are being embraced across the board. Sustainability is one of our guiding principles at DRPG, so we're always looking for ways to make our next event, our next exhibition, really any experience, as planet-friendly as possible.
Thanks to the bright sparks across our business, we've come up with plenty of creative ways to use some innovative materials and make sure they're recycled. Vitally, we don't just talk about recycling, we show it off at events. And we don't just chuck event materials in the green bin, we dig deep and find new ways to reuse them too.
Recycle, reuse, repurpose.
Printed material is often called out as an environmental no-no, but done the right way, incorporating print into your event or exhibition can be a planet-friendly option. And there's nothing quite like it for making a big impact with attendees. Thinking beyond classic, single use products like is the key to green print materials.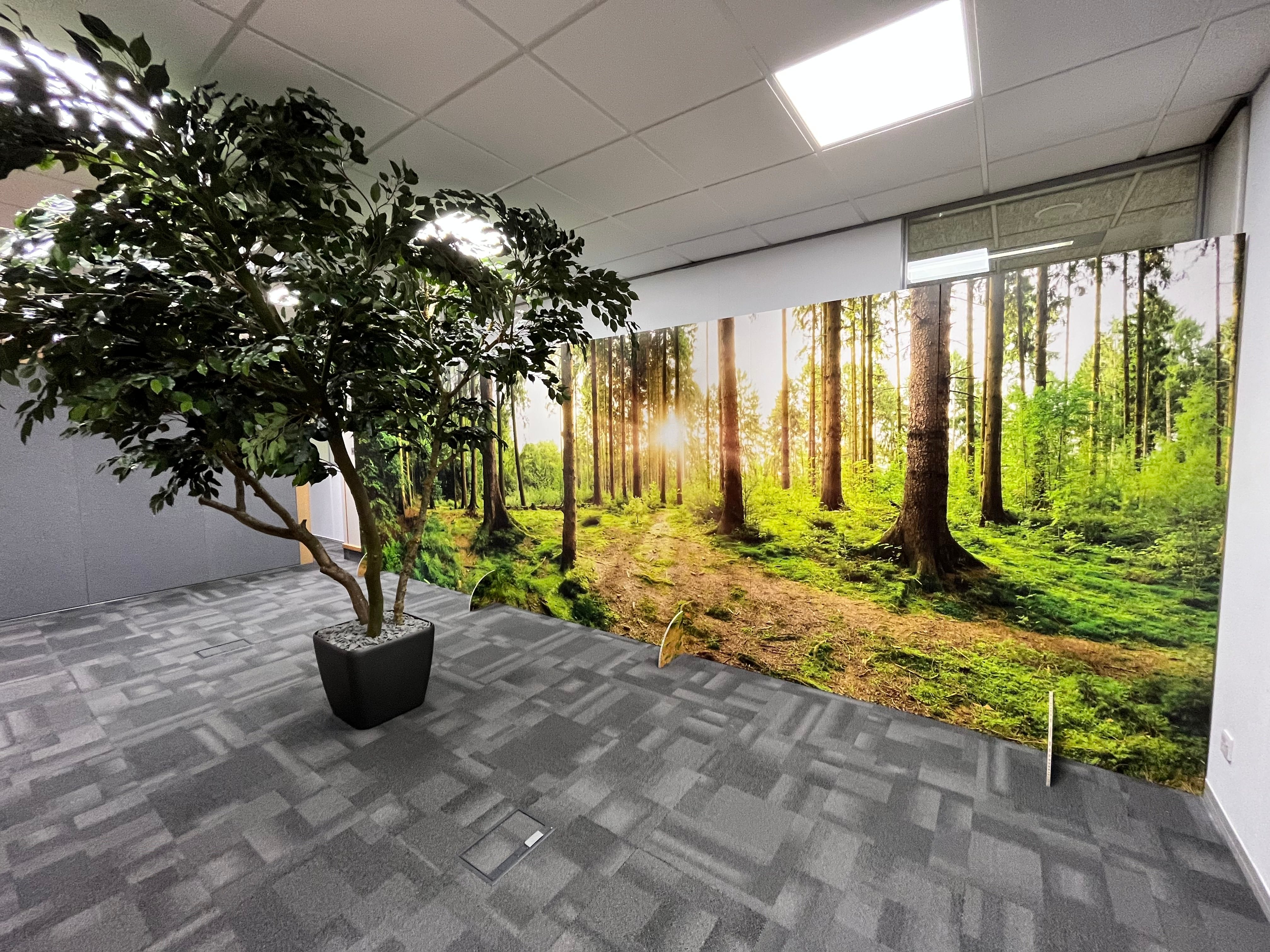 Opting for sustainable materials like rigid structured paperboard (and we use a lot of it here!) is a great first step, but we can do better than simply swapping non-recyclable materials for recyclable ones. Even if you've not heard of it before, you've probably seen it in action. Here at DRPG, we use the honeycomb boards to build freestanding, expandable walls that are highly portable, have an incredible finish and can even be put together on-site without any of the glues, screws or tape that might normally head to the bin on de-rig day.
Best of all, though, it can continue to exist long after your big event. As it's just so versatile, these boards can be transformed into practically anything you can imagine. Bold sculptures for your next event, a coffee table for your reception space, we can even fit out a whole meeting room with chairs and tables . It can go full circle and stay in use for a really long time. There's huge value in that for not just our environment, but event hosts eager to share meaningful sustainability stories and get the most out of their spend. It just takes a little imagination.
Green technology
Today, of course, printing means so much more than just ink on paper (or rigid structured paperboard). Ever-impressive 3D printing is starting to make a real mark on the events industry and with a little out of the box thinking, we can take it from something that goes on behind the scenes to a key feature of your event, and real talking point.
What if, instead of posting big green barrels around your venue for all those single use water bottles to be recycled, you recycled them on-site? What if you transformed them into the awards set to be handed out at the end of your recognition event? Perhaps the material could be pushed out as environmentally friendly keepsakes? What if you did all that on show, for everyone to see and engage with? Really, there's no need for 'what ifs' here, we can already do just that.
Shredding plastic into 3D printing material is something we can do at speed. We can print highly designed, visually striking items pretty quickly too. There really is nothing stopping us, and therefore you, from building interesting activations like this into any event. And doing so has so many benefits. One, it takes care of all those pesky plastics on-site. Two, it brings sustainability into the heart of your event and brand. But most importantly, it builds awareness through doing, not just talking.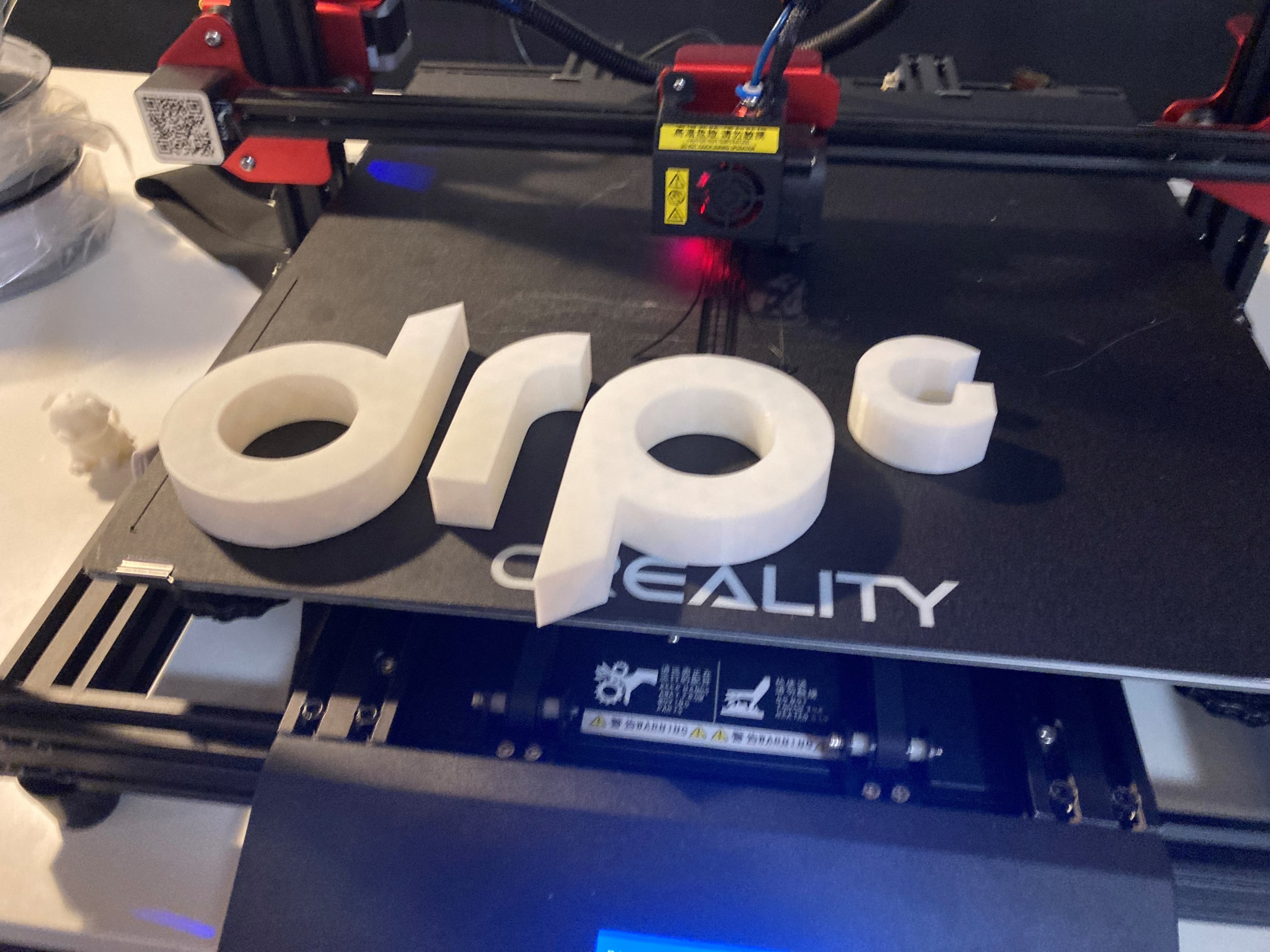 There's so much more we already do to make print solutions as sustainable as possible at events and exhibitions. Simple changes, like making branding generic, though never boring, means it can be stored and reused time and time again. Inputting all our choices into our innovative event sustainability app means we can get a clear overview of an entire event and adjust our choices to get the best possible outcome for both our clients and the planet. Even the tiniest tweaks – like feeding paper into our printers by hand or considering the fonts we choose to print in – can save waste along the way.
Here, sustainability is a mindset and it relies on creativity. We've got that in spades.
So, if you're eager to make your next event your greenest yet, just get in touch our fantastic team at anythingspossible@drpgroup.com.
We love all ideas, the good, the bad and the mad. Anything's possible, after all
Get in touch today