John Lennon once said, All you need is love. Simple, universal, timeless.
He also said, I am the eggman, I am the walrus, goo goo g'joob' - proving that even creative geniuses can come up with total nonsense and make it work.
But before we continue, let's rewind for a minute, back to 1969.

When esteemed filmmaker Peter Jackson and his team set about sifting through over 60 hours of footage and over 150 hours of audio recordings, the task at hand must have made the production on the Lord of The Rings trilogy seem pretty straightforward.
This wasn't just any old footage, or any old creative process by the way; for this was fly-on-the-wall footage that captured the most influential band that ever existed (give or take), in the final embers of their unparalleled career together as the Fab Four.


Told in three parts (eight hours in total!) Get Back is remarkable as it is intimate. And, whether you're a fan of The Beatles or not, you get to live and breathe the rarefied studio air that Paul, John, George and Ringo inhabited for almost a full month in January of 1969, as they start with an empty songbook, and attempt to write an album and create a live performance and spectacle around it.
It's candid, languid and weirdly hypnotic – not least because of Jackson's wizardry with upgrading the film stock quality to seem almost new, and of now. It's like they're in your own front room, strumming along to foundation chords and blocking out rough lyrics that would soon become iconic.
Day by day we witness their creative process, warts and all, via a documentary camera crew and gigantic, cumbersome boom mic. For much of the time nothing seems to really happen, but you know there's always something simmering beneath the surface of artistic disarray and discord.
It's oddly reassuring watching the likes of McCartney and Lennon with a blank page in front of them; the kernels of a grand idea in their sights, but with little formula for how to get there. It's almost like you assume the musical magic and creative juices just flow through their veins on tap, and that all they need is a studio space and a piano or guitar - and a masterpiece will follow.
I mean, they do, eventually.
But even these remarkable musicians and tour de force creatives, have their off days. Creative blocks and challenges pervade every single person. Even The Beatles.


Witnessing the complex dynamic of four musicians striving for something special, and new, is a reminder, like for anyone working in a creative industry, that the process can be painstaking and other times fruitful. Other times comical and outrageous. Sometimes…a magical serendipity.


Out of thin air, we see Paul jamming the opening riff to a rough, unwritten version of Get Back before it takes flight, and Lennon assembling the nuts and bolts of Don't Let me down via some silly, meandering detours. Then we see Ringo cutting his songwriting teeth on Octopus' Garden, with George throwing in some ideas by the piano, while the imposing shadow of Lennon/ McCartney disappears for a cup of tea.
Note: sometimes, the dominant voices have to leave the room for the quieter ones to flourish.


Meanwhile, George Harrison noodles along with his own solo magic on Something: a song that Frank Sinatra would later proclaim as one of the best love songs of all time. Here, Harrison is stuck on line two.

"Something in the way she moves/ attracts me like …" he says, fumbling for the right word.
Lennon's advice? "Just say whatever comes into your head each time — like, 'attracts me like a cauliflower' - until you get the word."

Ha.
We can learn two life lessons right here.
Humour can provide a solid rung on your creative ladder (the doc gives unique glimpses into The Beatles at their most comedic and wise-cracking) and secondly, there's no such thing as a bad idea, as long as it helps you get to the one that really works.


Like all creative processes, the best stuff tends to emerge from a time and space where the convergence of different voices reaches a point of harmony, and the various hats thrown into the centre of the room start to take proper form and shape.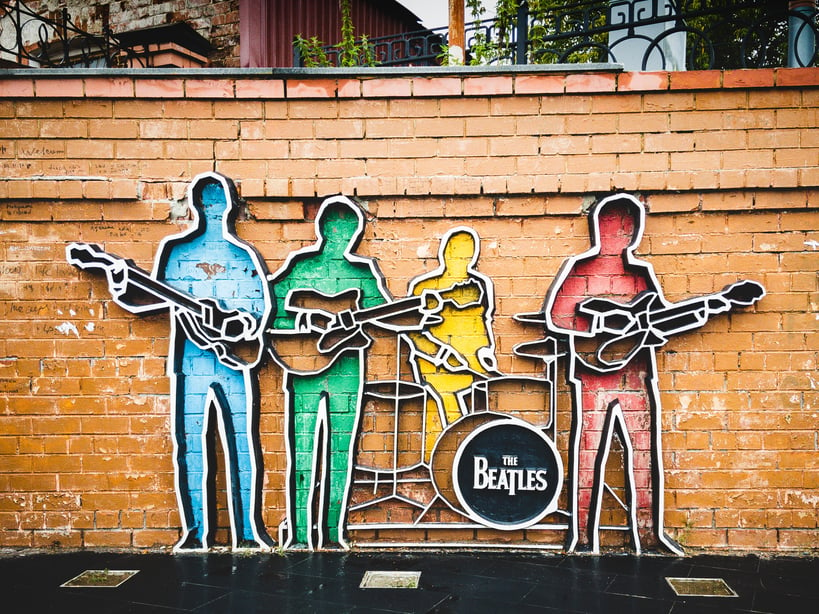 And what of those voices? (I think we can all relate to at least one).

Paul, the driving force and glue (and workaholic), who thrives on harmony and collaboration, and gets dismayed when John turns up late and George temporarily walks out on the band. "It's silly not to be near each other''. He is undoubtedly the man that kept things afloat.


John: the imagineer - fiercely creative, frustrating and sometimes reckless, whose wild streak was the perfect foil to Paul's common sense. Everyone needs a John in the room, for the witticisms, as well as the boundless stream of ideas.


George: the quiet man of technique and stoic belief in his own blend of musicianship. A voice that needed reassurance, but ultimately took heed from John and Paul most of the time. "I'll play whatever you want to please you." Though he knows, deep down, he's as good as anyone in the room.


And Ringo, the natural nurturer and occasional clown, everyone's friend, who goes along with the flow and rarely rocks the boat. But like all great drummers, the supplier of the steady beat and the safest pair of hands.


Behind all this, you had George Martin the record producer in chief and genius arranger, who had as much impact on their sound and career as anyone else: the calm, measured orchestrator, always watching on intently in the background throughout Get Back, who enabled The Beatles to keep on breaking boundaries but had the natural authority to give them a kick once in a while and keep them in check.
Reminds me of a few production managers I've worked with over the years.

Sometimes working in silence - and alone - can also bring forth a surge in imagination and personal creativity. But 50 years on from when The Beatles called it quits, this documentary is a timely reminder that – in the wake of a two year period where we've worked in solitude more than ever before and perhaps craved that buzz of just being in a room together – there's no substitute for being around other people when it comes to the grand ideas.
I'm thinking…the silly detours that inject much-needed levity into the production process, the humour and camaraderie that can oil your creative wheels when you need it most, and (of course) the melting pot of ideas and inspiration that emerges from the diverse and complex dynamic within the room.
There might be arguments, but conflict can be the essence of great art, just as it is with drama.


As for The Beatles, and reflecting on Get Back, it seems to me that it's a rather wonderful example of the ultimate creative dynamic in all its glory. Out of these sessions were born the seeds of their final album Let it Be, as well as parts of their iconic record Abbey Road – and on top of that, a rooftop performance in London that would go down in history.


We can't all be Pauls, Johns, Georges and Ringos (frankly, who is?), but when it comes to sorting your cauliflowers from your collaborative brainstorm sessions, there's always inspiration to be found on the other side of the table.