We do a bit of everything at DRPG. That means we can provide practically any solution our clients want in-house, but it also means we have the freedom and capability to get really creative. This can recently be seen with our '5 Voices' digital innovation. But, what is it, we hear you cry? Well, it's a super-engaging, one-of-a-kind VR training experience that would help individuals uncover their communication styles, and businesses better serve their people. 
What is 5 Voices?
Before we get too ahead of ourselves, let's start with what '5 Voices' actually is. The theory was developed by entrepreneur, speaker, author, and performance coach Steve Cockram. Condensing the 16 personality types of Myers-Briggs into five relevant categories, '5 Voices' has been designed to help every individual discover their leadership as well as other peoples' and empower them to use their Voice effectively. Below you'll find a brief rundown of each voice: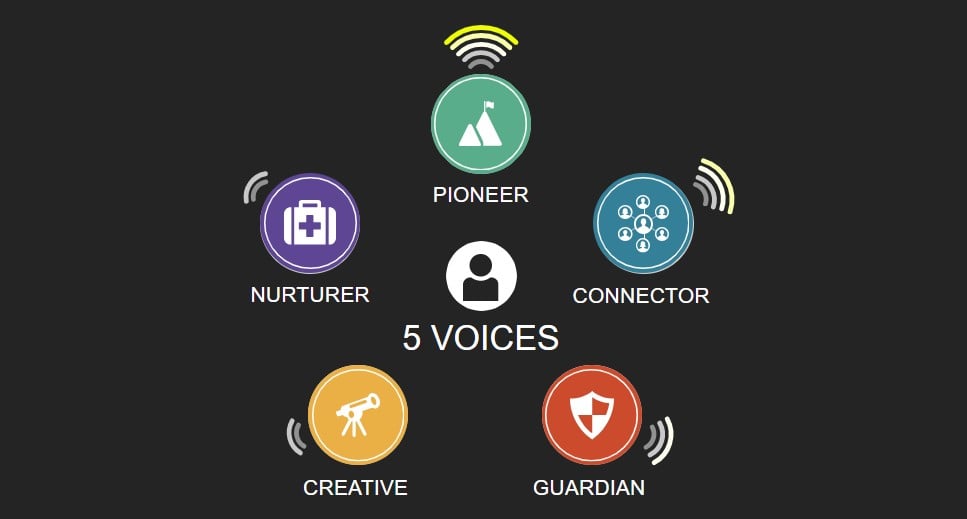 Nurturer – it's always people before profit with nurturers. Functioning as the relational oil inside teams and organisations, these pragmatic realists delight in celebrating the achievements of others, are natural team players, and intuitively feel how an organisation will react to a new idea.
Creative – This voice are conceptual architects. They love to think outside the box and the word 'can't' simply isn't in their vocabulary. They're often internal perfectionists and are champions of future ideas, innovation, and organisational integrity.
Guardian – Guardians aren't afraid to ask the difficult questions. Well organised, leave a project with a guardian and you'll receive the finished result on time and in budget. Naturally risk averse, they'll always ask if something is worth the time and effort, and they respect order and value logic above all else.
Connector – If you're someone who makes friends easily and has either a metaphorical or literal bulging address book of contacts, you're likely a connector. They know how to connect with people and their aspirations, and they know how to get the job done thanks to their long list of contacts.
Pioneer – Anything is possible with Pioneers. Strategic and powerful communicators, confidence exudes, winning results appear, and logic and rationality are ever apparent to ensure a compelling vision for the future.
Let's talk digital and VR
Currently, we deliver fantastic training sessions to our team members and externally to clients. We've been using '5 voices' training to get the best from our people for years. Essentially, it pushes individuals to look within, discover their leadership voice, and be empowered to use it effectively. After seeing such success with it at DRPG, it made perfect sense to build a digital tool around the exercise. We want to see others reap its benefits too!
So, how does our cool new VR training tool work? It's simple (to experience, though not to build). Users pop on a headset and enter the experience, navigating a series of rooms that each represent one of the 5 voices. Then, once they've explored every space and investigated every clue, it's up to them to match the room to the leadership voice. Do you want to see what they will be seeing? Check out some images below!
Not only do they get a huge sense of achievement for every match they get right, but they're also quickly able to work out which room best suits them and so, which leadership voice is theirs. It might just be the most fun you'll ever have training. We've recently rolled out this innovation to attendees of ICE Conference and IMEX Frankfurt, and received a whole host of gasps, joy, and intrigue as a result.
Our amazing VR solution is perfect for upping engagement during training sessions. But you know what's even cooler? We can tailor a custom training scheme for any of our clients; it doesn't have to be just the "5 Voices."
Gone are the days where we struggle with audience engagement. With our immersive VR experience, we're turning training into an adventure! Imagine learning while you're exploring amazing virtual worlds – it's like combining education and entertainment!
How can you get in on the digital action?
Our huge range of in-house experts made it all possible. Drawing on digital whizzes to develop the software, motion graphics geniuses to create the rooms, killer creatives for the vision, and knock-out art directors for the overall look and feel, this project was a real team effort. And it all paid off. We're now actively wowing audiences internationally, and we don't want you miss out on all the fun! To enquire and find out more, simply click here and let us come to you. 
We love all ideas, the good, the bad and the mad. Anything's possible, after all
Get in touch today