With over 400 thinkers, makers and doers, our creative geniuses across the globe are used to tackling the big (and small) communication projects, while still providing the more meaningful client experience you'd expect from a much smaller agency. Whether it's some strategic brand insight into exactly why your current prospects aren't biting or an all-guns-blazing employee experience, we're your single point of contact for researching, creating and executing communications that engage, excite and inspire in every detail!
We are proud to be a winner of the 2022 Queen's Award for Enterprise: Sustainable Development.
This is one of the highest accolades that can be bestowed upon a UK business and the
first of its category awarded to a creative communications agency.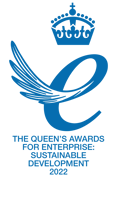 We are proud to have been appointed as Official Promotional Event Services Providers of the Birmingham 2022 Commonwealth Games to support in the delivery of promotional events in the run up to this year's biggest international sporting event.
Like what you see?

Let's work together!
Give us a call on: 0207 937 8057 or email us today on: anythingspossible@drpgroup.com
Enquire Now