In a bid to create some mid-quarantine cheer, enjoy a little escapism and celebrate surviving another week of lockdown, we partnered with Performing Artistes (talent agency providing speakers, hosts and presenters for events) to create a hilarity filled virtual dinner party. Over 160 guests logged in from across the UK, from the comfort of their own homes, for an evening of entertainment accompanied by a recommended menu and wine pairings.
Comedienne Zoe Lyons (Mock the week, The Wright Stuff) hosted the dinner which kicked off with a quiz where diners could send in their answers in the interactive comments section below the broadcast. The winner has been sent a delicious hamper.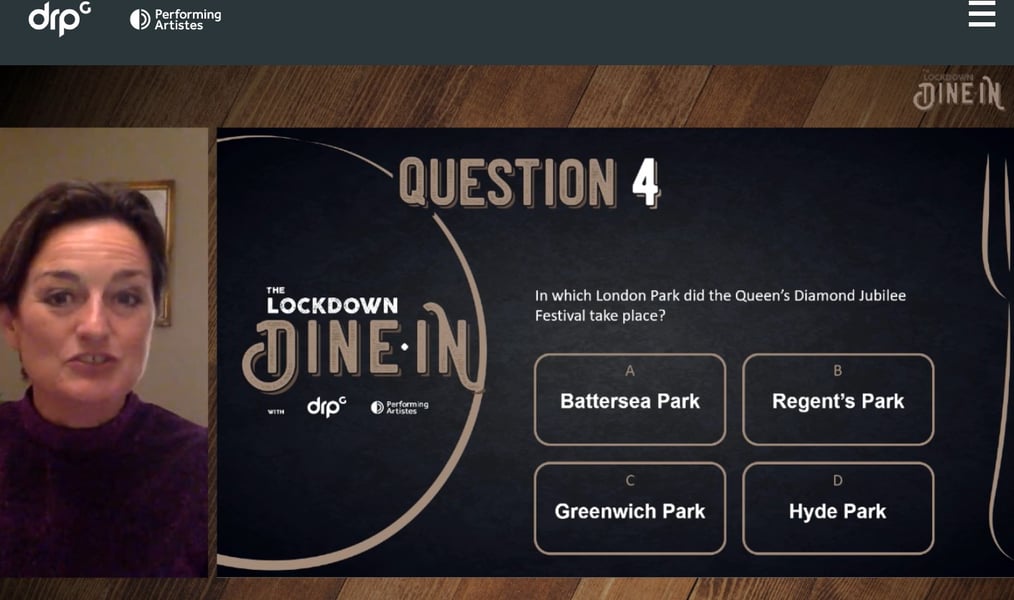 After round one, it was time for the starter, where diners where encouraged to prepare their first course in accordance with the menu sent over beforehand. While enjoying their meal, they were treated to entertainment from comedian Hal Cruttenden as well as discussion from a professional sommelier who talked everyone through the wine pairings picked for the evening. The main course was complemented by a comedy rap from Chris Turner, improvised from audience comments sent in on the portal.
Following the main and dessert, diners were given a class on how to create the perfect 'old fashioned' (or whatever cocktail was possible from supplies in the cupboard!) all accompanied by lively discussion from the host and her guests.
All told a fantastic evening which we look forward to repeating soon, and another great example of the Power of Virtual Events to connect people in this time of social distancing.
We love all ideas, the good, the bad and the mad. Anything's possible, after all
Get in touch today