Alex Cottom, level 4 digital marketing apprentice: "Gone are the days where apprenticeships are dominated by manual trades and are reserved for those who 'couldn't get into uni'. Apprenticeships give you that real life footing and contextualises the language that you learn whilst studying a degree."
From the 3rd of February to the 9th it's all about apprentices and apprenticeships as National Apprenticeship Week kicks off. The government supported initiative encourages conversations around the role of the apprentices in the workplace and explores topics like the benefit to both community and employer.
At DRPG we support the initiative wholeheartedly, but for us it is not just a week, we are passionate about and fully committed to nurturing young, local talent and supporting our community through our apprenticeship schemes. We currently have 9 apprentices who work across all teams in the group from marketing to live events, balancing full time work with their educational commitments. In December 2019, Thomas Smith won Apprentice of the Year at the annual Worcestershire Apprenticeships Awards and most recently Ash Packwood from our digital team graduated from his Level 4 Software Developer apprenticeship with a Merit.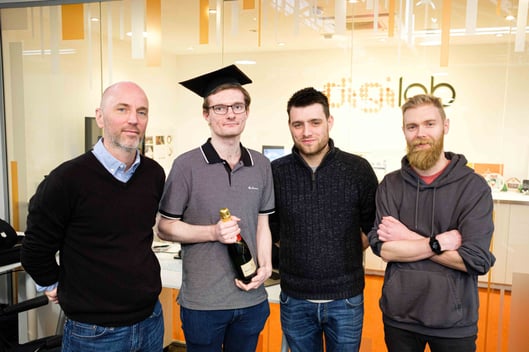 As well as those currently fulfilling apprenticeships, we have plenty of team members now in full time employ who came to us as apprentices, getting hand on experience, qualifying and moving into regular employment already with a year or two of experience under their belt. Two of our team members were the first apprentices to graduate from the new Event Management Apprenticeship Programme in 2019 and now hold integral roles within our Live Events team.
Dale Parmenter, group CEO, is a passionate believer in the power of apprenticeships, "Not only is it a great way to support our community, bringing in local talent from the region, giving them a career start in the creative industry, the benefits for us as an employer are immeasurable. We get a young, self-motivated workforce who are ready to learn and then when they graduate, we know that they are exactly the right candidates to take on our important junior and senior roles. Some of our best team members have come through the apprenticeship programmes that we collaborate with and I would highly recommend the schemes to any employer looking to bring on new, challenge-hungry recruits."
We love all ideas, the good, the bad and the mad. Anything's possible, after all
Get in touch today