On 17 October 2023, Brum.AI hosted a Postgraduate Showcase at Aston University during Birmingham Tech Week, its flagship event on artificial intelligence and innovation. Sponsored by us, the primary focus was to recognise standout achievements in the AI Industry from students of the suite of AI MSc programmes at Aston University. The evening showcased collaboration and featured an award ceremony for outstanding work from students through live presentations.
Brum.AI is aiming to become the central hub of AI in the Midlands. It believes AI represents the most impactful technological shift that humankind has ever seen and want to make sure it is 'used for good'. It has supported new developers and start-ups in the AI industry and this network offers a place for sector professionals in the region to come together, network, and share their knowledge.
Nathan Lloyd, Co-organiser of Brum.AI commented, "The BrumAI team is super proud of the students who submitted their work and especially those who presented in the live final.
"It is so great to see the state of AI through the research of young academics, and although it was a competition, you're all winners in our book!
"We were similarly excited to have James Heaton of Aurrigo to close out our event, showcasing his journey and the many opportunities to connect Universities with industrial partners, applying state-of-the-art research to real-world problems, a true role model for young academics.
"We are also thankful that DRPG and Aston University share in our ambition to promote AI research and talent in Birmingham, and we look forward to running more events like this one in the future."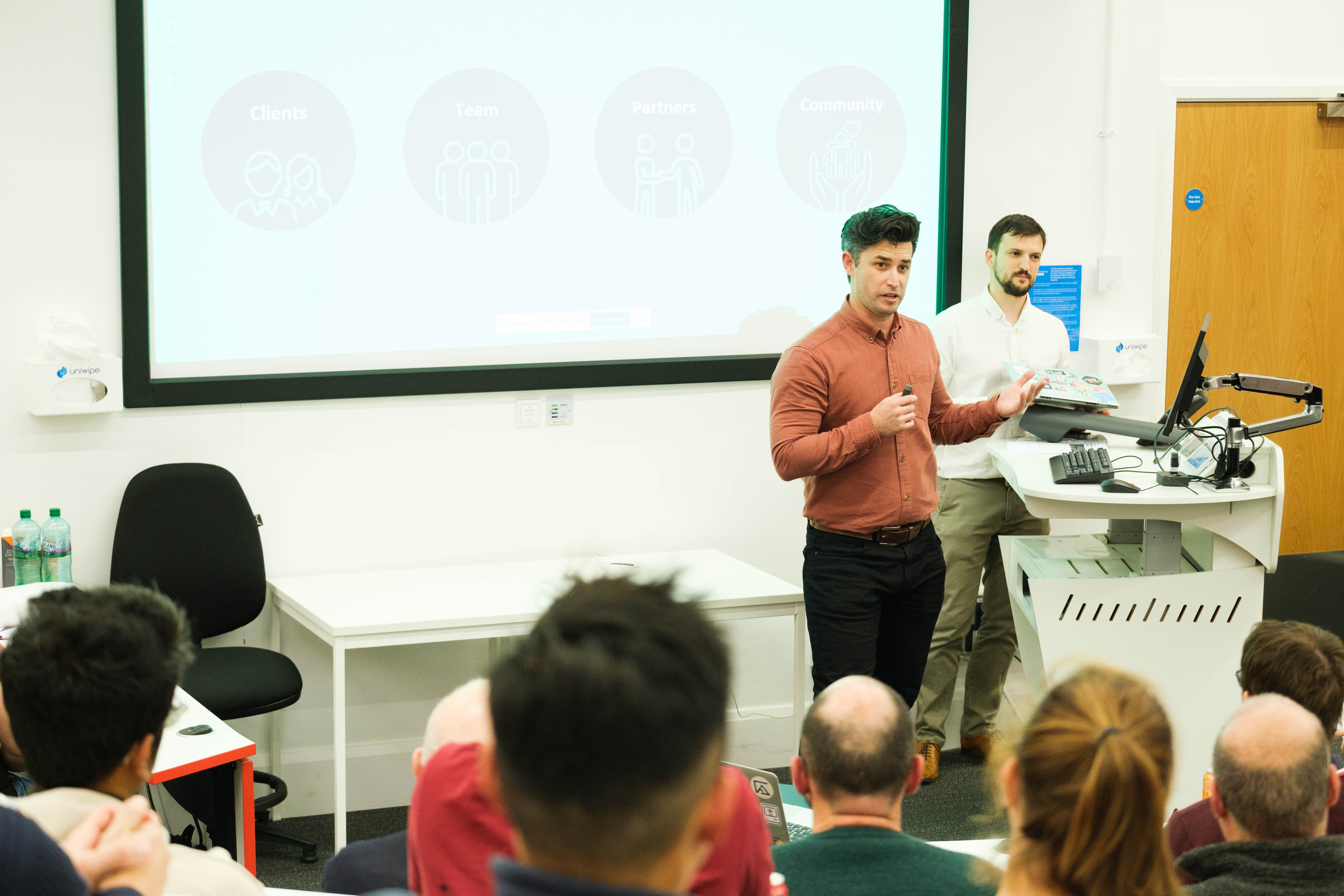 James Nam, our Head of Digital commented, "Our commitment to nurturing local talent, forging partnerships with esteemed educational institutions, and empowering the next generation of technology and technologists is not just an investment in our communities, but a testament to our unwavering belief in the boundless possibilities of our region and the potential it has for delivering ground-breaking solutions for our clients.
"At DRPG, we are extremely fortunate to see and support the transformation of the West Midlands into a powerhouse of digital innovation within the UK. We're not just sponsoring Brum.AI; we're championing an industry in our own backyard, and we do it with pride."
Professor Anikó Ekárt, Director of the new Aston Centre for Artificial Intelligence Research and Application (ACAIRA) commented, "We could not be more proud to celebrate the success of our students at Brum.AI. They excelled on every level, including presenting their work eloquently in front of a large and diverse audience.
"Our students are supervised by academic staff who are experts in a broad range of AI methods and application areas. Within our research centre we aim to bring impactful societal benefits through: (1) principled and tailored AI solutions to modern-day social, health and environmental challenges via close collaboration with SMEs, local authorities and governmental organisations, and (2) educating the next generation of AI leaders.
"Our students showcased their projects in Robotics and AI application in Bioinformatics and Health. The showcase was the first of its kind at Brum.AI, we hope that it becomes an annual event for the celebration of student success in the region, with participation from all local universities."
"I feel incredibly privileged to be a judge for the Brum.AI awards this year," Gemma Oldfield, our Head of Digital Project Delivery commented, "It has been an honour to review the high calibre and quantity of entries. It hasn't been an easy task, that's for sure, the talented individuals in the West Midlands AI community are exceptionally gifted. They have certainly exceeded my expectations and taught me a few things."
We extended our involvement by talking about the implementation of AI within the events and tourism sectors at Birmingham Tech Week within the West Midlands Growth Company fringe event on Tuesday 17 October. We will also be presenting a session at the DBT Midlands Conference, themed 'Where Business Meets Digital: Global Trade Unlocked,' taking place on 9 November at the Belfry in Sutton Coldfield.
We love all ideas, the good, the bad and the mad. Anything's possible, after all
Get in touch today