At the 10th annual Digital Impact Awards, the UK's largest celebration of digital work in corporate communications, we walked away not only with the most awards including four golds, a silver and a bronze, but also the most prestigious award of the night Digital Agency of the Year.
The Digital Impact Awards benchmarks digital communications in the corporate space, an area that continues to innovate year on year. Held at London's iconic Brewery, the event welcomed guests from a variety of companies and agencies, all vying for the coveted prizes.
Comedian Mark Watson, was on-hand to present the evening's proceedings. Mark kept the audience entertained, while a variety of guest presenters announced the winners of 38 categories, ranging from Best Corporate Website, to Best Corporate Viral Campaign.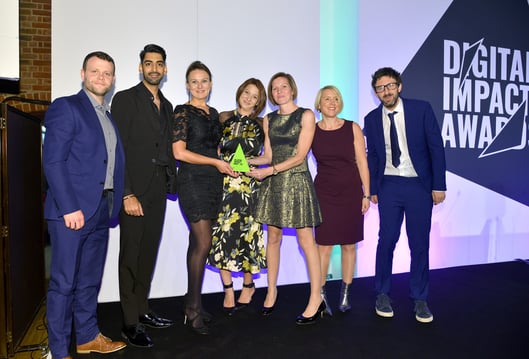 We were praised for our work with Jaguar Land Rover, winning gold in the Best Corporate App category as well as silver in the Best Use of Digital from the Engineering and Manufacturing Sector.
We won four awards for our collaboration with Worcester Bosch including golds in the Best Use of Digital in the Engineering and Manufacturing sector, Best Use of Data and Best Use of Digital in the Energy and Utilities Sector categories and a bronze award in the Best Use of Online Video category.
* Best use of data - Worcester Bosch - KPI Dashboard - Gold
* Best use of digital: energy and utilities - Worcester Bosch - WB Express - Gold
* Best use of digital: engineering and manufacturing - Worcester Bosch - MyWorcester App - Gold
* Best use of digital: engineering and manufacturing - Jaguar Land Rover - JLR GCI Portal - Silver
* Best corporate app - Jaguar Land Rover - Your JLR - Gold
* Best Online video - Worcester Bosch - Beautiful Beast - Bronze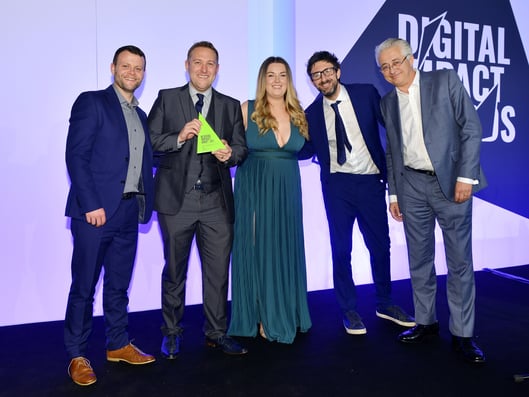 Andrew Thomas, publishing editor of Communicate magazine and founder of the Digital Impact Awards, says, "This year was one of the most competitive of years in the history of the awards programme. This tenth annual awards signified the leaps and bounds that digital communications are continuing to make across the professional plateau. The sheer quality and character of the evening's winners exemplifies not only the homogeneity of today's digital communications, but equally its importance."
Ben Wallace, our director of digital who attended the evening alongside members of the digital team and clients, commented, "It is a real honour to have been named Digital Agency of the Year and it has been achieved thanks to the consistent hard work and dedication of our entire team. It is always nice to receive recognition for the work we do for our clients and to have won this award on top of those we received for our project work is an accolade that we are proud to uphold."
We love all ideas, the good, the bad and the mad. Anything's possible, after all
Get in touch today