In commemoration of the 75th anniversary of VE Day and the part played in the Second World War by the people and places of the local community, Hartlebury based creative communications group DRPG lit up their 212 studios and global HQ building in red white and blue.
DRPG's technical production and video teams collaborated from afar to project the Union Jack flag and footage from WW2 across the face of their historically significant building, flying the flag for Britain and celebrating the hard fought peacetime in Europe in a spectacular display of solidarity and hope. Focussing on the soldiers and people of the Second World War, the projection was a tribute to them and a sign that their sacrifices will never be forgotten.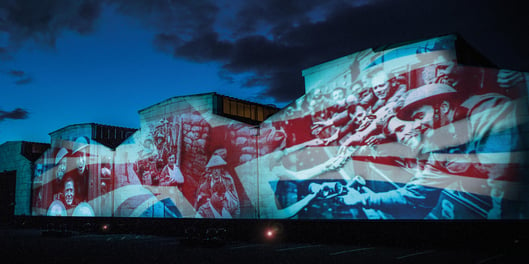 Dale Parmenter, CEO of DRPG says, "We are proud of the heritage of our building and the part it played in supporting our Armed Forces, and for us, lighting it up was a small symbol of our gratefulness to the people and the places that played their part in bringing about peace in a time of worldwide struggle. It is so important, especially in times like these, to celebrate victory and the coming together of the people for good. We lit up our building in red, white a blue to demonstrate hope and we showcased those who took part in WW2 in remembrance of them and as a thank you for the sacrifices they made to achieve peace on this day 75 years ago. Our historical heritage has significantly influenced our purpose today: working together to inspire the communities and businesses of tomorrow."
For more information on the history of the 212 building read our post on DRPG Then and Now - The History Behind the Iconic DRPG Building.
We love all ideas, the good, the bad and the mad. Anything's possible, after all
Get in touch today