Over the last few months DRPG have partnered once again with the University of Worcester to engage with the future creatives as they learn to inspire and educate, opening their eyes to the career paths available in the creative industry.
Our very own sub editor Raven Brookes has been returning to her alma mater, where she studied English Language and Literature, to deliver a three-part series on 'How to Become a Successful Copywriter.' The Creative Writing department in the School of Humanities welcomed Raven to deliver these master class career sessions to allow the students who are studying English, Media and Culture access to an industry expert who can illuminate this career path for them.
An insider view of this career allows students to explore the options available to them to use their writing skills in the marketplace after graduation as well as giving them an editor/writer's point of view on the current job market.
Jez Light, head of learning and development explains the importance of this educational partnership, "DRPG is proud to partner with the University of Worcester across many areas of its educational offerings. We know what it takes to create passion as a business and this is a way for us to share this skill with others."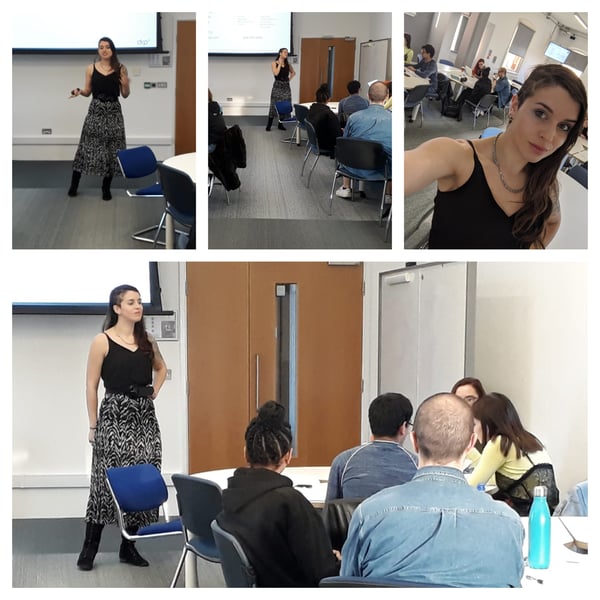 Raven's masterclasses generated a hugely positive and promising response from the students themselves who were almost all inspired to become copywriters, many asking for jobs on the spot and sending through feedback such as: "It's so useful to have this copy writing workshop because it opens up a whole new world of opportunities to do with our degree that we didn't necessarily know existed."
The staff were also positive about the experience. Lecturer in Creative Writing and co-coordinator of the project, Ruth Stacey commented, "The Creative Writing team at Worcester are extremely grateful to Raven Brookes and DRPG for the masterclasses delivered to students from the Department of English, Media and Culture. The sessions were packed with insights and hands on practical information regarding a profession that is of particular relevance to our students. Raven facilitated inspirational workshops, with discussion and targeted advice that will be of great help for students wishing to pursue a range of careers related to advertising and copy writing. We are especially grateful to Raven for her generosity in providing practical exercises which helped to contextualise the information delivered. Her expertise was invaluable in improving the course's ability to provide extracurricular and extramural activities that will enrich the learning experience of our students."
We love all ideas, the good, the bad and the mad. Anything's possible, after all
Get in touch today