It has been a big year for DRPG and we have received over 35 awards across all the sectors we service. Industry award wins have recognised our work for clients including campaigns we have run (Best Content Targeted to the CSR Community), digital solutions we have implemented (Best Corporate App at the Digital Impact Awards) and live events we have produced (Best UK Conference of the Year at the Conference Awards). Our level of service, quality of product and industry-leading creativity have been cited as key factors in our success.
We have also celebrated some huge companywide wins, sealing our standing as leading employers. We climbed the ranks of one of the most prestigious employer lists in the UK reaching 29th in the Sunday Times 100 Best Companies to Work For list and were awarded Employer of the Year five times in industry, regional and national award schemes.
As well as awards for our work and for our overall employer status some of the individual teams that make up our group have been recognised as leaders of their respective fields. Our production team became Operations Team of the Year, our film and video team were ranked number one in the Corporate Top 50, and our digital team won Digital Agency of the Year!
The Highlights:
Digital Agency of the Year
Corporate Film and Video Producer of the Year
Event Agency of the Year
Operations Team of the Year
Employer of the Year
Group CEO Dale Parmenter comments, "It is fantastic to see almost every area of our fully integrated company receiving the recognition they deserve, and it is a true reflection of how successful our unique inhouse business model has proven to be."
"As well as helping us to attract new clients and recruit talent, the most important factor behind why we put such importance into awards is to help us in recognising the teams that make up our group. Award wins mean recognition not just of the work that we have done for clients, but of the teams themselves and the hard work they put in day to day to produce incredible results for clients."
For more information on why we think awards are such an important part of a company's arsenal check out our blog on The Power of Recognition – 8 Reasons Why you Should Enter Business Awards.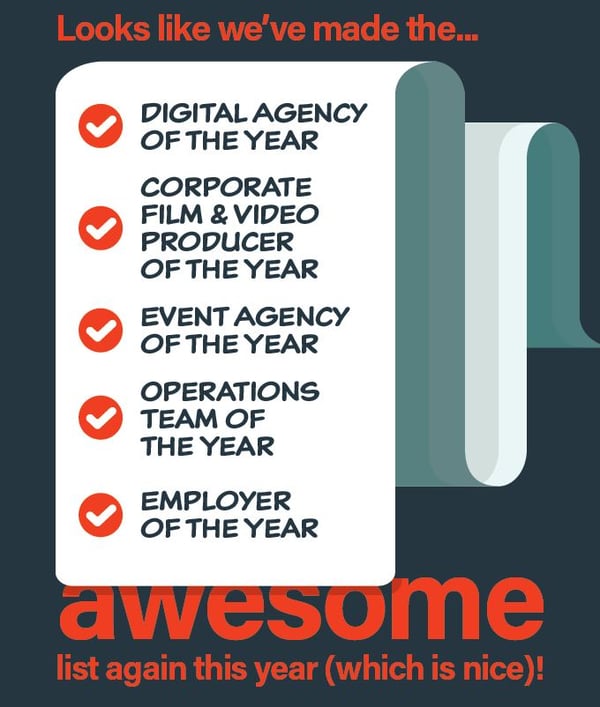 We love all ideas, the good, the bad and the mad. Anything's possible, after all
Get in touch today